This page contains affiliate links. I may earn a small commission. Thank you for your support.
Use Washi Tape in Practical Ways In A Planner
Without question, customizing your planner encourages you to use it.  More specifically, your planner needs to be visually appealing. 
Without losing sight of the ultimate goal, which is to plan, it is necessary that you add customized features to your planner. One way to do that is to add color. Washi tape also adds texture and dimension.
Ultimately washi tape is considered a decorative element. However, it's first priority can be functional.
In short, washi tape is a quick, no-mess way to add customization to your planner.
Using Washi Tape in a Planner
When viewing the washi tape ideas for planner decoration keep in mind the type of washi tape that would be best for your functional planner. Washi tape comes in tons of solid colors, patterns, and also various widths.
Some not so obvious supplies that you may consider: Washi Tape Dispenser, Washi Tape Storage, and Scissors.  It's also practical to have a way to take some washi tape on the go.
Tip: Be mindful when choosing a washi tape that doesn't have a busy design where you can't actually read your writing once you write on it.
1.Covering Mistakes
Washi tape can be used to cover any size mistake because you have control over the size of the piece.  Solid colors are a good option here so that you are able to write on it.

2.Creating Sections
You can divide your page into sections with washi tape.  As an example, instead of drawing lines try using washi tape to create different frames on your page to create various sections.  

3.Page Markers
You can add washi tape to the edge of your page to serve as a tool for locating pages quickly.  You can also choose to label the washi tape.
4.Coding
Rather than using highlighters for coding, try using your washi tape instead.  [This is the only tip that I have never tried.  I will update this post with my results.]
5.Tip-Ins
The quickest way to tip-in a page into your planner is to use washi tape. You simply place the washi tape halfway on your page you are adding in and the other half onto the page that is already a part of your planner. 
Tip-ins can be added to the center or to the edge of a page.

6.Page Border
You can add washi tape to the border of your page on any combination of the four sides.

7.Entire Surfaces
Washi tape can be used to cover an entire surface. A washi tape with a pattern is a good option here so that you won't be able to see the edge of the lines.  One example would be a cover, meaning the immediate inside of your notebook.  Another example would be to cover a divider. 
Bonus Tip: DIY Planner Stickers
Flags & Banners & Shapes
Page flags are a common sticker shape. You can create them from a solid washi tape to serve as a label or from a pattern washi tape to serve more as a decoration.
To make them, start by cutting a rectangle out of the washi tape.  Then cut a triangle out of the short end of one side.  NOTE: Save those leftover triangles!
The leftover triangles from the page flags can be used to create a banner.
In the image below you can see flags and banners.  Also, you can see other ways to cut washi tape for functional planner purposes.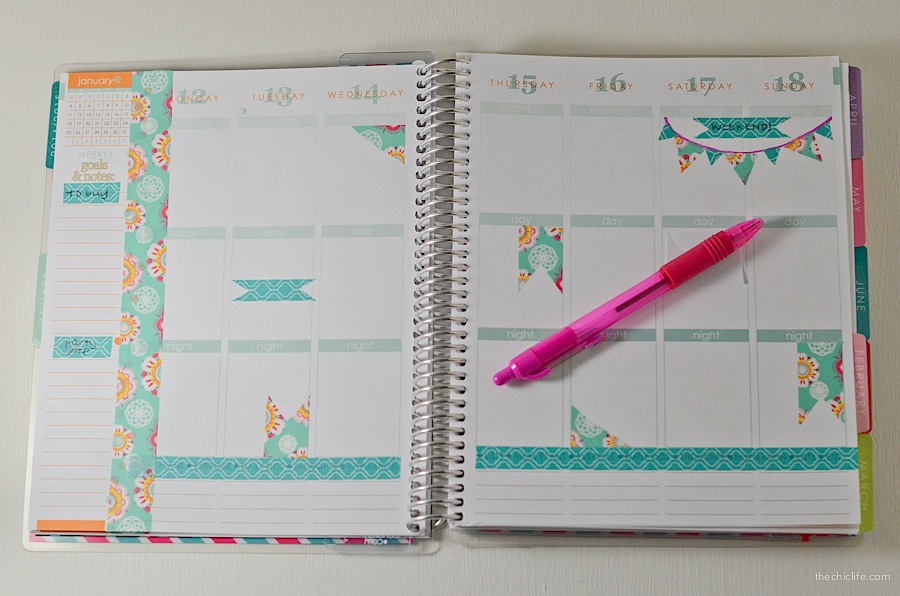 Photo: The Chic Life. image linked to source.
---
What's your favorite way to use washi tape? Let me know in the comments!